What Makes Locals.Reviews Unique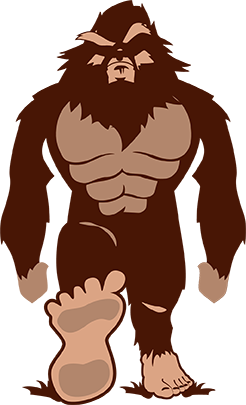 Want to know what makes Locals.Reviews unique?  Why should you choose Locals.Reviews instead of one of the other guys?
THE FUN STUFF FIRST
If you self-identify as a "no fun stick in the mud",
tap here and skip to the serious stuff.
There's No Guy Like This Guy!
First and foremost, it is the ONLY feedback and reviews platform that has been developed with the assistance of Bigfoot.
People are in absolute awe when they come in contact with Locals.Reviews and wonder why no one else has not already done what we do ... and then they learn our BIG SECRET.
Bigfoot works for us.
Bigfoot.Marketing
OK, so maybe it is a tiny exaggeration to say we've been assisted by Bigfoot.  However, Locals.Reviews has been developed by Bigfoot.Marketing!
Bigfoot Marketing is a small business owners marketing strategy that teaches small business owners how to get the biggest marketing footprint possible with their limited marketing budgets.
Bigfoot Marketing will help you Learn How to Market Your Small Business Successfully with the budget that you have available.
If you learn and implement Bigfoot Marketing, your BIG FEET will learn how to walk all over your competition.  That's not charitable, so  

  let's say it this way: you'll take some REALLY BIG STRIDES and gain a competitive edge in today's highly competitive environment.  That's better! 

THE SERIOUS STUFF
Primary Focus is Upon Locals
Everyone knows that "recommendations by locals'" are the most dynamic referrals that a local, small business can have. Since Bigfoot.Marketing's entire focus is upon small business owners, it is consistent with our mission and vision to create a program for local, small businesses. We want to help you get valid, local, powerful great, FIVE STAR REVIEWS!
We ask them these a couple of unique/powerful questions:
How long have you resided in this local area?
How long have you known / been a customer of this business?
Note: premier users may customize these questions to their own liking.
They Don't Have to Be Local
No, they don't have to be local, but our FOCUS is primarily to help you get more local reviews.
They simply select "Not a Local Resident"!
Our program will work for ALL of your company's feedback and reviews.
We Eliminated a Huge Obstacle
If you want to lose people, especially contemporary western consumers, throw an inconvenience in front of them!
Just shove this roadblock in front of them: require them to register to use the feedback and reviews platform!
Your Customers Don't Need to Register
All they have to do is provide their feedback. They don't even need an email address or a phone number! All they need is to be one of your customers and fill in the easy form!
Simply Guide Your Customers to Submit their Feedback
They can search our quick form, find your business and provide feedback.
You'll also get a [CODE SNIPPET] that you may post on your website so your customers can provide feedback directly from your site.
You can download and print resources that you can post anywhere, too to encourage more great reviews for your business!
We Chose Simplicity over Confusion
Our program provides plenty of power without making it's use like a forest or swamp only Bigfoot could navigate. We didn't present our small business clients with a rugged mountain of details that only Bigfoot could scale.

Our GUI (Graphical User Interface) or "Dashboard" is super easy to navigate and understand.
We Embraced Over the Top Customer Support
Need help? Call us @ 888-628-5226
We've got automated help in the panel as well.
We Provide the Service at a "No Brainer" Price
Free Program (greatly limited, but free)
Lite Program for $25/mo or $225/yr
Premier Program for $50/mo or $550/yr